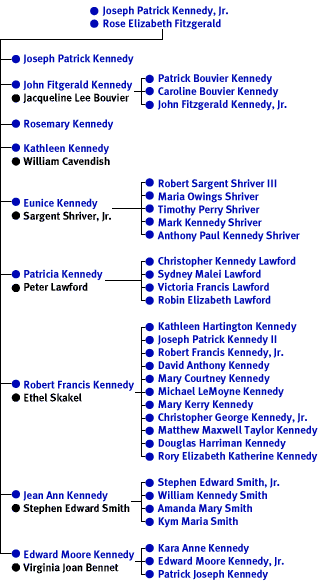 Joseph Kennedy Sr.

Born: Sept. 6, 1888 Died: Nov. 16, 1969
Shrewd financier and fabled short-seller on Wall Street, he launched the clan in national politics. He married Rose Fitzgerald, daughter of the mayor of Boston. Rose's ancestors, like Joe Kennedy's, were Irish farmers who came to the United States in the mid-1800s to escape the potato blight. Kennedy was one of Franklin Roosevelt's prime financial backers in his 1932 presidential campaign. FDR appointed Kennedy as the first head of the Securities and Exchange Commission and in 1937 named him as ambassador to Great Britain. The Kennedy family patriarch suffered a stroke in 1961 while playing golf in Palm Beach, Fla.; he was paralyzed and virtually unable to speak until his death eight years later.
Rose Fitzgerald Kennedy

Born: July 22, 1890 Died: Jan. 22, 1995
She was the granddaughter of an Irish immigrant, daughter of the mayor of Boston and the wife of one of the richest men in America. She was a devout Catholic who buried four of her nine children before she died at the age of 104.
Joseph Kennedy, Jr.

Born: July 28, 1915 Died: Aug. 12, 1944
He volunteered for a dangerous World War II air mission against the Nazis and his plane exploded.
John Kennedy

Born: May 29, 1917 Died: Nov. 22, 1963
The decorated war hero and U.S. senator was elected president in 1960 by a margin of only 114,673 out of 68.8 million votes cast. He was the first Roman Catholic president. A new book by Seymour Hersh details how patriarch Joseph Kennedy enlisted the help of Mafia kingpin Sam Giancana to help JFK win the election. He married Jacqueline Lee Bouvier, who died of cancer May 19, 1994. They had two children who died. Jacqueline gave birth to a stillborn child in 1956; in 1963, another died 36 hours after his birth. They had two surviving children.
Jacqueline Kennedy Onassis
She was born Jacqueline Lee Bouvier. Her early years were divided between New York City and East Hampton, Long Island, where she learned to ride almost as soon as she could walk. She was educated at the best of private schools; she wrote poems and stories, drew illustrations for them, and studied ballet. Jacqueline was dubbed "the Debutante of the Year" for the 1947-1948 season. In Washington she took a job as "inquiring photographer" for a local newspaper. Her path soon crossed that of Senator Kennedy, who had the reputation of being the most eligible bachelor in the capital. Their romance progressed slowly and privately, but their wedding at Newport in 1953 attracted nationwide publicity. Mrs. Kennedy's gallant courage during the tragedy of her husband's assassination won her the admiration of the world. She moved to New York City; and in 1968 she married the wealthy Greek businessman, Aristotle Onassis, 23 years her senior, who died in March 1975. From 1978 until her death in 1994, Mrs. Onassis worked in New York City as an editor for Doubleday. Jackie had 4 children, two survive her.
Patrick Bouvier Kennedy
Born: Aug. 7, 1963 Died: Aug. 9, 1963
He was a 4 pound, 1 ounce baby and was baptized immediately after his death.
Patrick was delivered by c-section and I believe Jackie never even saw him.
He was born at Otis Air Force Base hospital, but was flown soon after to the Children's Hospital in Boston.
Jackie wasn't able to attend his funeral either.
Caroline Kennedy

Born: Nov. 27, 1957
An extremely private person, Caroline is a successful legal author. She attended Harvard University as an undergraduate and studied law at Columbia University. She passed the New York state bar in 1989. In 1996, she wrote, "The Right to Privacy," which highlights her attitude toward celebrity. She is married to Edwin Arthur Schlossberg, an artist and designer, and they have three children: Rose Kennedy Schlossberg (born June 25, 1988), Tatiana Celia Kennedy Schlossberg (born May 5, 1990) and John Bouvier Kennedy Schlossberg (born Jan. 19, 1993).
John Kennedy, Jr.
Born: Nov. 25, 1960 - Died: July 16, 1999
A graduate of Brown University in 1983 with a degree in history, he went on to study health care and adult education at University of Delhi, India, in 1983. He attended law school at New York University, graduated in 1989 and passed the bar in 1990. He worked for the Manhattan district attorney's office for four years before he founded the political commentary magazine George, he was editor-in-chief. He married Carolyn Bessette in 1996, she died with him in 1999.

Rosemary Kennedy

Born: Sept. 13, 1918
She was diagnosed as mentally retarded when she was a child. Her father, without conferring with his wife, allowed a lobotomy to be performed in 1941. Her decline was so significant that she was sent to an institution, where she remains.

Kathleen Kennedy

Born: Feb. 20, 1920
She caused her family much grief over her love life. Her mother, a staunch Catholic, did not approve of her marriage to William John Robert Cavendish, Marquess of Hartington, because the titled Briton was Anglican. He died from a German sniper. Four years later, she wanted to marry Peter Fitzwilliam, who already was married but said he was going to get divorced. The news horrified her parents, who swore to disown her. She died in a plane crash on her way to what she hoped would be a reconciliation with her father.

Eunice Kennedy

Born: July 10, 1921
She found the Special Olympics and married Sargent Shriver, who was the director of the Peace Corps and Sen. George McGovern's running mate for president in 1972. They had five children.

Patricia Kennedy

Born: May 6, 1924
She is currently involved in charity work. Her ex-husband and father of her four children, Peter Lawford, died in 1984. He was an actor and member of the "Rat Pack."

Edward (Ted) Kennedy

Born: Feb. 22, 1932
He has served as U.S. senator from Massachusetts since 1962. First elected at age 30 to fill the unexpired Senate term of his older brother John, Ted Kennedy was derided at first as a lightweight but has built an impressive career as a legislative leader in his 36 years in the Senate. He had a brush with death in a 1964 plane crash. His own chances of winning the presidency were scuttled by his involvement in the 1969 Chappaquiddick accident that killed Mary Jo Kopechne. He challenged President Jimmy Carter for the Democratic nomination in 1980 but was soundly beaten. He married and divorced Virginia Joan Bennett. The couple had three children. He married Victoria Reggie, the daughter of old family friends, in 1992.
Kara Kennedy
Born: Feb. 27, 1960
She worked in television news and as director of video production for her Aunt Jean's Very Special Arts, a program that helps disabled people express themselves through the arts. She is married to Michael Allen. They have two children: Grace Kennedy Allen (born Sept. 19, 1994) and Max Greathouse Allen (born Dec. 20, 1996).
Edward Kennedy, Jr.
Born: Sept. 26, 1961
Ted's right leg was amputated in 1973 because of cancer and he's long been an advocate for the physically disabled. He ran a non-profit organization for families whose homes had lead poisoning. His wife, Katherine Gershman, is a psychiatrist who teaches at Yale Medical School. Their children are Kiley Elizabeth Kennedy (born Aug. 7, 1994),
and Edward Moore III (born February 25, 1998).
Patrick Kennedy
Born: July 14, 1967
Patrick sought treatment for a cocaine addiction as a teen-ager in 1986.
Patrick is now a congressman from Rhode Island, and the youngest Kennedy to ever hold office.
Robert Kennedy
Born: Nov. 20, 1925 Died: June 6, 1968
Chief political strategist for his older brother, Bobby surprised critics by his performance as attorney general. He led a crackdown on organized crime and struggled with the Civil Rights Revolution sweeping the South. He was key adviser to JFK during the Cuban Missile Crisis in 1962. After JFK's assassination, Bobby won election as senator from New York and became a critic of President Lyndon Johnson's Vietnam War policy. He appeared headed for the Democratic nomination for president in 1968, but was gunned down at the Ambassador Hotel in Los Angeles after winning the California primary. He married Ethel Skakel, whose parents had died in a plane crash in 1953. They had 11 children.
Kathleen Kennedy
Born: July 4, 1951
She is lieutenant governor of Maryland. She had headed a school community service project in that state. Her husband, David Lee Townsend, is a college professor. They have four children; Meaghan Ann Kennedy Townsend (born Nov. 7, 1977), Maeve Fahey Kennedy Townsend (born Nov. 1, 1979), Rose Katherine Kennedy Townsend (born Dec. 17, 1983) and Kerry Sophia Kennedy Townsend (born Nov. 30, 1991)
Joseph Kennedy II
Born: Sept. 24, 1952
He is a three-term congressman who represents the same Boston district that elected his Uncle John F. Kennedy. His early years were tarnished by a 1973 driving accident which left a family friend partially paralyzed. He later gained notoriety when his 12-year marriage to Sheila Rauch ended in divorce and he received an annulment from the church. Rauch, the mother of their two twin boys, fought the annulment and wrote a book about it, "Shattered Faith." That bad publicity followed by the news of his brother Michael's alleged affair with a baby sitter caused him to abandon plans to run for the Governor of Massachussetts in 1998. He married his scheduler Anne Elizabeth Kelly in 1993. He has two sons from his first marriage: Matthew Rauch Kennedy (born Oct. 4, 1980) and Joseph Patrick Kennedy III (born Oct. 4, 1980).
Robert Kennedy, Jr.
Born: Jan. 17, 1954
He is an attorney for the Natural Resources Defense Council and chief litigator for Hudson Riverkeeper, a New York-based environmental watchdog group. In 1982, he was an assistant Manhattan district attorney.
In 1983, he was charged with heroin possession after he collapsed on a plane.
He got his life back together and is one of the most popular Environmental Activists and Envir. Lawyers around today.
He married Emily Ruth Black in 1982 and they divorced in 1994. They have two children: Robert Francis Kennedy III (born Sept. 2, 1984) and Kathleen Alexandra Kennedy (born April 13, 1988). Bobby married Mary Richardson (3 weeks after his divorce) in 1994 and they live in White Plains, N.Y. They have three children: Conor Richardson Kennedy (born July 24, 1994), Kyra LeMoyne Kennedy (born Aug. 27, 1995) and William Finbar (born Nov. 8, 1997).
David Kennedy
Born: June 15, 1955 Died: April 25, 1984
According to Boston Globe reporter Tom Oliphant, whom David had met one summer while working as a journalist,
David was an "excellent writer" and his work was "out-of-this-world" and he had an "original and at times brilliant way of looking at things." Unfortunately, David got hooked on various drugs, and it is said by his brother Bobby. At age 28, he died of a cocaine and prescription drug overdose in Palm Beach, Fla.
Courtney Kennedy
Born: Sept. 9, 1956
She had worked for a Rome-based AIDS pediatric foundation connected with the United Nations. She married Jeffrey Ruhe, a cable-TV executive and they divorced in 1991. That same year, she moved in with Paul Hill, who was convicted and later exonerated of an IRA bombing; the case was chronicled in "In the Name of the Father." They married in 1993 and have a daughter, Saoirse Roisin Hill (born May 22, 1997).
Michael Kennedy
Born: Feborn 27, 1958 Died: Dec. 31, 1997
He took over from his brother Joseph as the chairman of the Citizen's Energy Corp. He married Victoria Gifford, daughter of sportscaster Frank Gifford. They split amid rumors of his long-time affair with their baby sitter. Michael is survived by his three children; Michael LeMoyne Kennedy Jr. (born Jan. 9, 1983), Kyle Francis Kennedy (born July 6, 1984) and Rory Gifford Kennedy (born Nov. 14, 1987).
Kerry Kennedy
Born: Sept. 8, 1959
She worked in human rights as an intern for Amnesty International and founded a human rights center named for her father in 1988. She married Andrew Cuomo, who is the secretary of the Department of Housing and Urban Development and the son of New York's former Gov. Mario Cuomo. They have twin daughters: Mariah Matilda Kennedy Cuomo (born Jan. 11, 1995), Cara Ethel Kennedy Cuomo (born Jan. 11, 1995) and Michaela Andrea (born Auguest 26, 1997).
Christopher Kennedy
Born: July 4, 1963
He is vice president for marketing for Kennedy-owned Merchandise Mart Properties. He and his wife, Sheila Sinclair Berner, have three children: Katherine Berner Kennedy (born Oct. 4, 1990), Christopher George Kennedy Jr. (born June 15, 1992), and Sarah Louise Kennedy (born Sept. 26, 1994).
Matthew Maxwell (Max) Kennedy
Born: Jan. 11, 1965
Max began his law carer in July 1992 working as an assistant district attorney in Philadelphia. He also worked for his brother's Citizens Energy Corporation. He has been attending UCLA business school but he will be moving back to Boston in the near future. Max is married to Victoria Strauss, an attorney. They have two children; Matthew Taylor Kennedy Jr. (born Sept. 18, 1993), Caroline Summer Rose Kennedy (born Dec. 29, 1994), Noah Rose (born July 9, 1998)
Douglas Kennedy
Born: March 24, 1967
He was a reporter for the New York Post and is now a free-lance writer and cable news executive. Married Molly Start in August 1998. Riley Elizabeth was born August 27, 1999.
Rory Kennedy
Born: Dec. 12, 1968
She was born six months after her father was assassinated.
Rory is a documentary film maker who once produced a video about women addicted to drugs.
She is also an animal rights activist.
Rory and Douglas were arrested in the mid 1980's for protesting.



Make a selection from the fall-down menu below:
<! This script triggered automatically when the reader makes> <! a selection from the Select Box>